Dental Tourism in Mexico
Dental Tourism in Mexico

Mexico has many medical institutions and clinics which meet the standards of international hospitals in western countries. The popularity of medical tourism in Mexico has become a part of their growing economy. The Mexican Ministry of Health monitors all hospitals and clinics who welcome medical tourists to Mexico. Common surgeries performed are bariatric surgery, cosmetic surgery and practically surgeries in all fields of medicine. Attentive staff and trained physicians are proficient. The quality of the doctors are reported to be similar to those in the US. Low cost surgeries have brought to Mexico tremendous amounts of medical travelers for various medical treatments.
Why Mexico for Dental Work?
Mexico is a tourist destination for many Americans and Europeans. Over the years it has become common to have surgery and travel this awesome country. Bariatric surgeries, lap band surgeries and gastric sleeve surgeries are the most desired medical interventions for the medical traveler. You can save up to 55% by having surgery in Mexico without having to make a compromise on the quality of the medical staff and the medical care. Technology is very up to date in Mexican hospitals, experienced staff utilize all modern equipment if needed upon hospitalization. All international airlines land in major cities of Mexico therefore planning surgery in Mexico makes it a convenient location.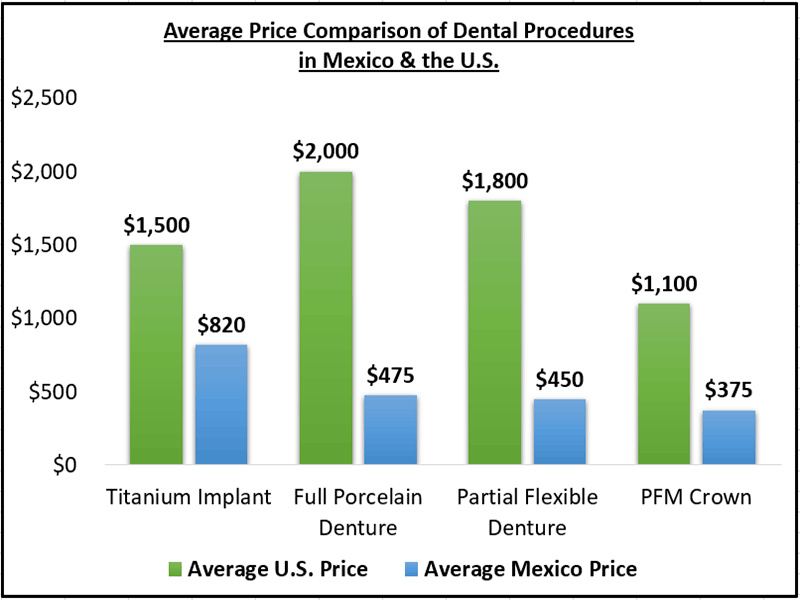 Healthcare System in Mexico
The health system in Mexico lacks equality. Mexico has a population of above one hundred million which makes it difficult to monitor health wise. About 50 million Mexicans are on a health fund scheme and pay contributions according to their wage. These Mexicans go to clinics and hospitals which are under coverage of the insurance company.
About 45 million Mexicans have no health insurance at all and suffer from poor quality of health and diseases. There are attempts to cover those uninsured people and provide them with some medical assistance and care. Around three and a half million Mexicans, middle class and wealthy citizens have a private insurance and benefit from good private medical institutions.
Dental Procedures
Dentistry is a major field in which hundreds of thousands of medical tourists seek care within affordable prices.
Single Titanium Dental Implant $750-890 USD
All-on-4 Dental Implants $8,950-12,475 USD
Porcelain-Fused-to-Metal (PFM) Crown $180-567 USD
Porcelain-Fused-to-Metal (PFM) Bridge $180-567 USD
Full Porcelain/Ceramic Crown $180-567 USD
Zirconia Crown $1,700 $450-567 USD
Porcelain Veneer (per unit) $350-567 USD USD
Full Dentures – Acrylic Teeth (upper or lower) $250-965 USD
Full Dentures – Composite/Porcelain Teeth (upper or lower) $350-600 USD
Full Dentures – Immediate or Healing (upper or lower) $480-965 USD
Partial Dentures (Flexible Frame) $400-500 USD
Partial Dentures (Metal Frame) $350-600 USD
Tourism
Mexico City can be explored for days if not for weeks. This huge cosmopolitan takes in everything a city has to offer and more. The Metropolitan Cathedral, the National Palace, Chapultepec area and the Anthropology Museum. Take a day's trip to Iztacchihautl Volcano and hike up the mountain to see breathtaking views. Another interesting trip is to Cholula, a place of hundreds of churches and pyramids. Taxco is also a good place for a visit, the marketplace is exquisite and so are the cobbled streets. Take an internal flight to Cancun, swim with sharks and dolphins and just relax in the sun in a beautiful resort.