Mini Dental Implants & Cost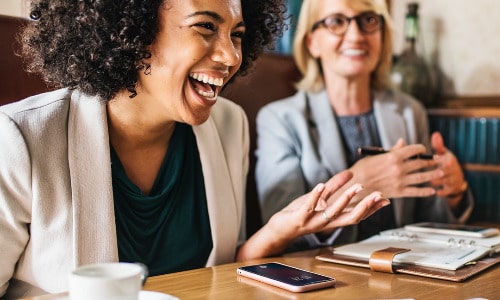 Mini Dental Implants & Cost
Stabilize Your Loose Dentures within One Visit
Can you eat the foods you want? Do your dentures shift and tilt or gouge into your gums? Are you tired of tasting and feeling messy denture adhesives? Do you have trouble speaking clearly? Are you scared of smiling? Imagine eating anything that you want the same night that you have new miniature implants inserted! Imagine your denture fitting snugly and comfortably and being held firmly in place… Imagine all of this for around $5,000 per jaw! The FDA approved hi-tech mini dental implant is fast, effective and, most importantly, patients find this treatment to be almost entirely pain-free.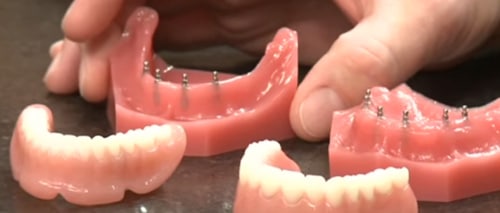 Mini dental implants provide a way to stabilize a denture with the least cost. While this can provide a long term solution, the stress placed on this type of implant has more implant failures. The denture is still bulky but is more stable and doesn't "jump up" quite so much thanks to the silicone 'o' rings inside of the denture. These implants help prevent bone loss and are easy to clean. It is possible to remove mini implants and to replace them with regular implants to experience the greater benefits of the other types of implant-supported teeth although this does require a more complicated surgery and more expense later in order to do so.
What Are Mini-Implants Used for?
First and foremost, mini-implants are used to ensure your dentures are tight and secure allowing you to eat, talk and smile confidently. Your denture would snap in and out. Secondly, your missing teeth can be replaced with fixed, permanent teeth that can't be removed, ridding you of your denture or partial plate altogether.
If you have either lost your teeth or had them removed because of decay or damage, then you may have begun to look into different dental implant options to figure out which kind may be best for you. While there are different types, one of the most popular versions currently is mini dental implants. Sometimes referred to as MDIs, these miniature implants are smaller than the traditional dental implants that were once used. When they were designed and created originally, it was for retaining dentures, but now the mini dental implant is used for many different reasons.
While you might be confused about what your options are when it comes to mini dental implants for dentures, don't let that frustrate you. The following information is  going to help you to understand how they work, the mini dental implants cost, and how to decide if they are right for you.
Mini Dental Implants Price
The average cost of a mini dental implant can fall between $500-$1500. This price is considerably lower than the average price of traditional dental implants, which ranges between $4000-$5000 just for the implant.
One of the first things that come to people's mind when it comes to surgical procedures and dental procedures is the cost. Since MDI's are in both categories, it can cause you to pause for a second and consider if they are right for you. Many of the people who are interested in the mini dental implants price are on a fixed income. Usually, this income pays for just enough of your bills, and so adding additional costs and burdens to an already burdened income can be tough.

The good news is that mini dental implants can be up to 60% cheaper than the traditional types of dental implants.
Since prices range from dentist to dentist, it is hard to put a specific price on these and nail down a final mini implants cost. Talk to a few different dentists in your area to get different quotes. Be sure to ask them about what hidden fees you might incur, to get a more accurate quote. These hidden fees can sometimes be inevitable because each and their situation is different.
You may want to look into dental insurance because this can be a great way to get the mini denture implants to cost down. Many leading dental insurance companies can cover 75%-100% of the cost of mini dental implants, and so you'll want to find ones that you are eligible for.
Implant Treatment for denture problems at just $5000 per jaw.
If your dentures are sore and loose, this FDA approved technology can bring you life-changing implant dentistry at an affordable cost, a cost that was unimaginable of just one year ago. Stop the need to glue your dentures in with foul tasting denture adhesive for half the price of traditional implants.
The Benefits of Mini-Implants
One-step surgery is simple, gentle and short.
Only local anesthesia is needed (as used when having fillings done). Dental sedation is always an option in our office to help if you have any fears.
See immediate results. The new dentures are attached and snapped on to your implants straight after your surgery.
No downtime. You can eat almost everything that you want immediately.
Preserve your bone and facial structure.
You will be able to taste foods better due to the roof of the mouth being uncovered.
No More Denture Adhesive Needed!
How Mini Dental Implants Work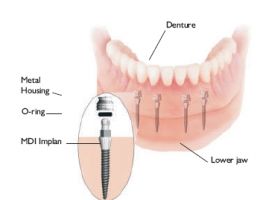 There are two main pieces, with one of them being the actual mini dental implant dentures and the other being the implant itself. The implant is a miniature titanium rod that has two ends. The first end is a screw, and the other end is a ball shape that allows it to connect into the actual dentures. The titanium dental implant is one solid piece for additional sturdiness.
The dentures feature a socket connect on the base, that fit directly with the ball-shaped head of the implants. The dentures also feature a rubber o-ring that creates the proper force to hold the implants in place. This suction allows you to talk and eat like normal without the dentures being forced off. To remove the dentures, all you need to do is to apply more force than usual, and that will enable you to remove the dentures safely.
Mini Dental Implants vs. Traditional Dental Implants
While researching, you may not fully realize the difference between mini dental implants and the traditionally used dental implants. As the name implies, one of the significant differences is size. While a traditional implant is between 4mm and 5.75mm in size, the mini plants are 2mm in size. This makes installation of them more manageable than the traditional ones, and it also allows them to be implanted on narrower areas that were previously hard to access with conventional implants. Some mini dental implant companies will only install mini dental implants, but some will install traditional implants as well.  There are less reported problems with dental implant surgery when dealing with miniature dental implants as well, so that is something to be considered.
Mini Dental Implant Installation
When it comes to surgical procedures, we can sometimes become hesitant because of the very nature of them.  If you have had to have any other type of dental surgery, then you can kind of know what to expect, but the mini implants dental procedure is not bad at all.
Here are some of the details about the installation surgery:
Single stage procedure (whereas the traditional method is two stages),
The process takes only about 2 hours or less,
The operation is just minimally invasive, and there is no gum cutting, and you won't need to have any stitches removed.
A pilot hole is first drilled into the jaw bone,
The implant is screwed in so that only the ball top is showing.
Denture Stabilization with Mini Dental Implants
Often, dentures that have been installed previously get loose pretty quickly, especially over time, and this can cause a problem for the denture wearer, like when trying to eat or carry on a long conversation.  Luckily, mini dental implants can help.  They'll create a socket in the dentures, and make one, maybe two implants with the MDIs, and use those to provide better stabilization for the loose dentures.