What are Dental Implants?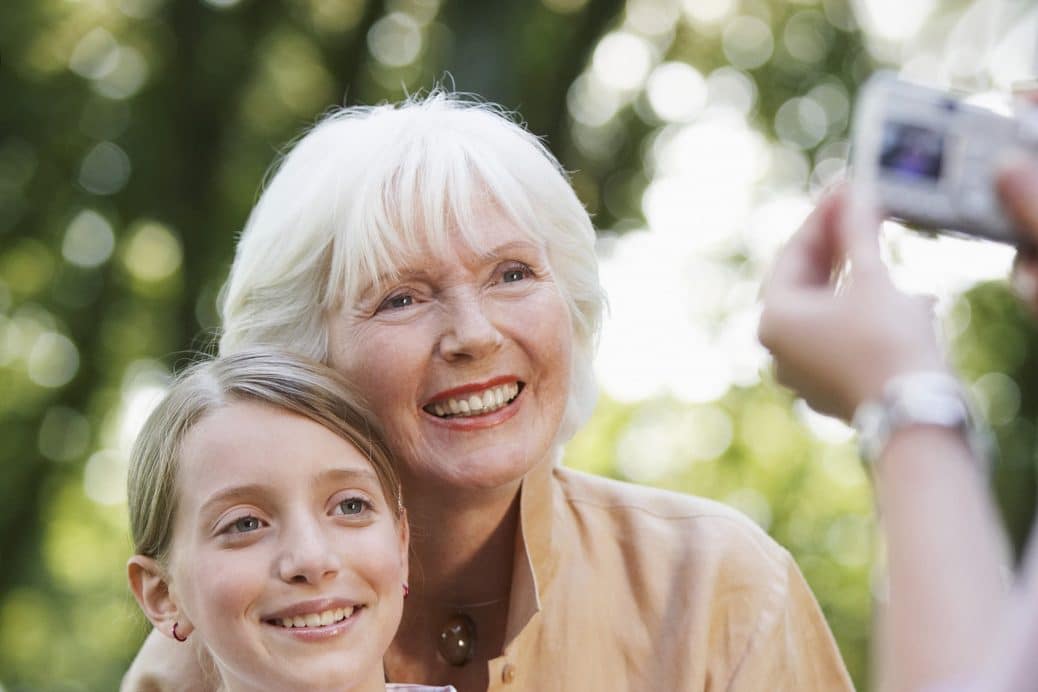 What are Dental Implants?
Dental implants are a great way to replace missing teeth and also provide a fixed solution to having removable partial or complete dentures.  Implants provide excellent support and stability for these dental appliances. Dental implants are artificial roots and teeth (usually titanium) that are surgically placed into the upper or lower jaw bone by an Oral Surgeon. The teeth attached to implants are very natural looking and often enhance or restore a patient's smile!
Implants Overview
If you're wondering how much implants cost, you can easily inquire at a nearby implant clinic. You can also ask your dentist if he or she has the qualifications needed to install dental implants. The following list proves why dental implants offer the best replacement for your missing teeth:
Dental implants last a lifetime. Unlike removable dentures which can become damaged over time, they are highly durable
Implants remove the need for installing teeth braces and adhesives. Like removable dentures, braces can be damaged, and can even cause abrasions in your mouth
Unlike teeth braces and removable dentures, implants don't affect other teeth needlessly. It fits well with the other teeth
Dental implants may be used on patients with low jaw bone density. There are two kinds of implants, namely endosteal and subperiosteal. The former is used for most patients, while the latter is for patients who have thin jaw bones
Implants don't present any impediment to food chewing. After all, there are no wires, rubbers, or adhesives which can trap food and cause minor annoyance. Implants can also be brushed and flossed like normal teeth
Implants have a very high success rate as compared to teeth braces. The reason for this is because implants are permanent, while teeth braces are only temporary. Teeth structure may still be altered after the braces have been removed, but this is not the case when it comes to dental implants, which ensure that there are no gaps or collisions
Strong & Durable
Dental implants are very strong, stable, and durable and will last many years, but on occasion, they will have to be re-tightened or replaced due to normal wear.
Replicating the natural function and appearance of your lost teeth can be very difficult to accomplish.  Historically, dentures or bridge restorations would be used as replacements, but with limited results.  Dental implants, however, are natural-looking replacements for missing teeth that also provide the same function as your natural tooth root. They have also been used to anchor these other types of restorations for greater success and patient satisfaction.
You May Also Be interested In…
A More Natural Approach
A dental implant is a small, sturdy, titanium post that acts as the root structure would for a natural tooth. A dental implant is placed into your upper or lower jaw bone. After the bone has grown around the implant, implants can hold a crown, bridge or over-denture just like roots hold natural teeth in place. Implants are very durable and can last a lifetime. They require the same maintenance as natural teeth; this includes brushing, flossing and regular dental check-ups.
A single tooth or a full arch of teeth which have been lost due to injury or disease can be replaced with dental implants. Titanium metal is used because of its compatibility with bone and oral tissues.
What does getting dental implants involve?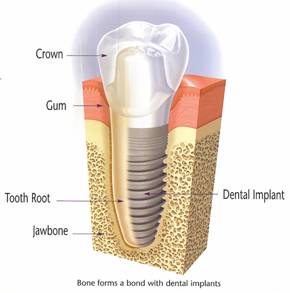 The process of getting implants requires a number of visits over several months.
X-rays and impressions (molds) are taken of the jaw and teeth to determine bone, gum tissue, and spacing available for an implant.  While the area is numb, the implant will be surgically placed into the bone and allowed to heal and integrate itself onto the bone for up to six months.  Depending on the type of implant, a second surgery may be required in order to place the "post" that will hold the artificial tooth in place.  With other implants the post and anchor are already attached and placed at the same time.
After several weeks of healing the artificial teeth are made and fitted to the post portion of the anchor.  Because several fittings may be required, this step may take one to two months to complete.  After a healing period, the artificial teeth are securely attached to the implant, providing excellent stability and comfort to the patient.
You will receive care instructions when your treatment is completed.  Good oral hygiene, eating habits, and regular dental visits will aid in the life of your new implant.
Dental Implant History
Dental Implants were developed in 1952, in a laboratory in the university town of Lund, Sweden by Professor Per-Ingvar Brånemark, who had a "lucky" accident during bone grafting research. Much to his dismay, Dr. Brånemark discovered that it was impossible to recover any of the bone-anchored titanium microscopes he was using. The titanium plate had apparently bonded irreversibly to living bone tissue, an observation which contradicted all scientific theory at the time.
Dr. Brånemark went on to demonstrate that under carefully controlled conditions, titanium could be structurally integrated into living bone with a very high degree of predictability, and without long-term soft tissue inflammation or rejection. Brånemark coined the name "osseointegration," meaning the attachment of healthy bone to a titanium implant.
Thus dental implants were born and the first application of dental osseointegration was the implantation of new titanium roots in an edentulous (toothless) patient in 1965. Dental implants have shown a 90 percent success rate and long-term studies continue to show improving success.
Reasons you may want to consider dental implants
To replace one or more teeth
To provide support for a partial denture
To increase the support and stability of full upper or lower denture
To enhance chewing comfort
To increase confidence while smiling, talking and eating
To improve your overall psychological health
To improve esthetic appearance and regain over all confidence
Summary
In 1952, the first dental implants were developed and since that time technology has taken leaps and bounds to give us the most modern solution for missing teeth. Dental implants restore optimum oral health, as well as confidence and hope to those who have suffered tooth loss.