Best Water Flossers of 2022 – Reviews and Buyer's Guide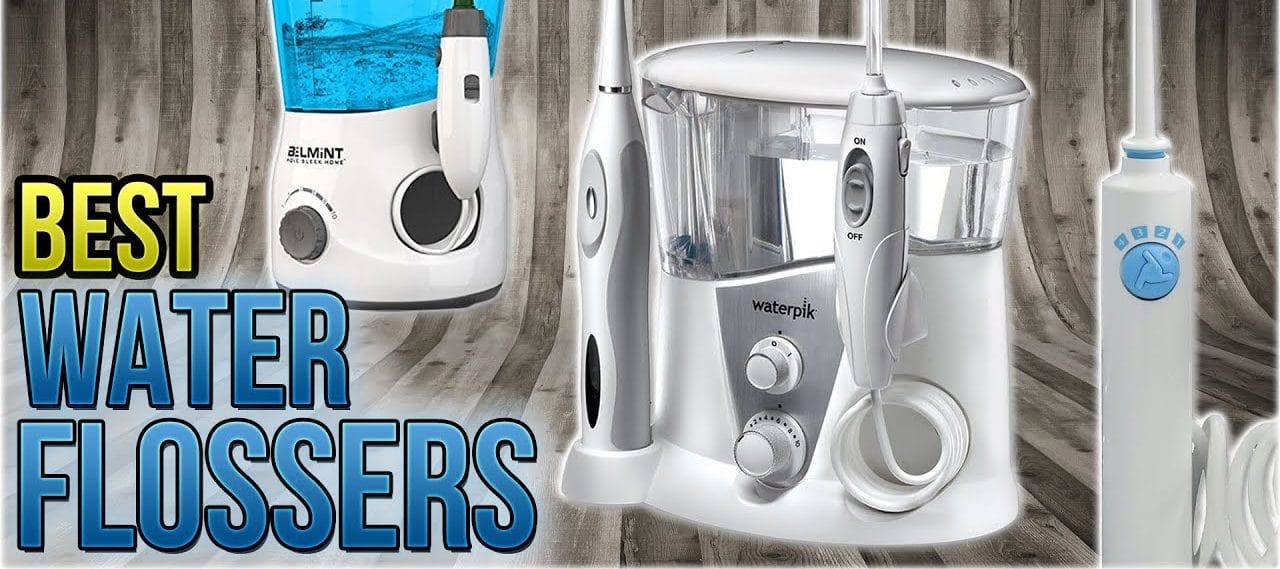 Best Water Flossers of 2022 – Reviews and Buyer's Guide
Updated July 2020. Unsure what type of Water Flosser you should buy? We at Best Dentist Guide have made this guide to explain everything you need to know!
I have also included and reviewed the best items on the market to buy in 2020.
Flossing is a vital part of your daily dental routine, it helps to get in and clean the parts of your teeth that a brush cannot. However, studies indicate that over 50% of Americans do not floss daily. This is where the water flosser comes in.
What is a Water Flosser?
A water flosser (also known as a water pick or an oral irrigator) is an oral cleaning device that shoots streams of water at your teeth.
It has many of the benefits of traditional flossing, in removing plaque and food particles from your teeth and helping to combat gum disease and bleeding.
Many people simply don't use string floss because of sore or sensitive gums, the use of braces, or simply the fact that many people hate manual flossing. Water flossers can be a great alternative.
Best Water Flossers
Here are some of the most popular water flossers. The most common brand across America is Waterpik.
My Experience
The first water flosser I used was a Waterpik Aquarius on Amazon. To be totally honest, my history of traditional string flossing has been patchy. It felt a bit strange using this the first few times, but then after checking up online, I read that I should start with a low setting and help my gums and mouth adjust to using the device.
The cleaning was a lot better when it got to higher settings, however, it took a bit of getting used to before I could work up to this level.
When I got into using this, it really made my teeth and mouth feel clean, it got rid of particles and stuff caught in between my teeth. Most importantly, my gums stopped bleeding, which was happening quite a lot when brushing.
Before buying a water flosser, one of the first things I checked up was their effectiveness compared to string flossing. The clinical research is very promising.
Also, I personally end up doing a much more thorough job with the water flossing compared to a string. Particularly on my back teeth. Check out some clinical research links here from the American Dental Hygienists Association website, and this paper over at the US National Library of Medicine site.
A few tips:
Use warm water in the reservoir: I was initially using cold water, which felt similar to biting into ice cream. It felt a lot better when I switched to warmer water.
Point it at a 90% angle from your gum line and start at the back of your mouth.
This product has a pause button to stop the flow of water. Make sure to press this when turning it on, otherwise, it can end up in a mess!
Only open your mouth slightly and lean over to let the water flow gently from your mouth. This can take a bit of getting used to!
The Waterpik came with a lot of different attachable tips. My favorite was the Classic Jet Tip.
I use the water flosser before brushing. But it's completely a matter of preference, and there are different schools of thought as to which way is better.
What are the Different Types of Water Flossers?
Water flossers fall into the following categories:
Counter-top: These are sturdy units with large reservoirs. Perfect for those looking for a permanent place for their water flosser and for families. It's convenient as the large reservoir and placement of this allow for quick access before or after brushing.
Cordless: These are portable models that are great for travel, or for those with less space in their bathrooms. The main disadvantage of these is the lower reservoir size, which means more frequent refills.
Kids: These are water flossers designed specifically for kids. The units and handles are smaller in size and feature more child-friendly electrics.
Faucet attachments: These are oral irrigators that connect directly to your faucet, eliminating the need for a reservoir. These are less popular than the reservoir models.
Features to Compare
Reservoir size: This will dictate how long you will be able to floss before having to refill the reservoir. This depends on your pressure setting, but 5 ounces will usually provide around 30 seconds, and 22-ounce reservoirs can provide up to 90 seconds of flossing time. Note: Faucet flossers do not require as a reservoir as they get their source of the water directly from the faucet.
The number of water pressure settings: Water flossers can have numerous different pressure settings. It is recommended to start low and work your way up, therefore having multiple different settings allows you to work up slowly. High settings will enable a more thorough clean.
Tips: Some water flossers come with a variety of tips for different purposes, such as specific to people with braces, plaque targeting, and general cleaning. These are much more common in counter-top models as they are generally more feature-rich.
Handle size: The flosser handle size will vary compared to adult or kid's models
Pause button: A pause or handle on/off button allows you to stop the flow of water. It's recommended to get an item with one of these, as not having one of these can leave you and your bathroom soaked if you are not careful.
Size: If counter-top models take up too much space for you, you can opt for cordless models or faucet flossers.
Review: Waterpik Aquarius Water Flosser, WP-660
This is a top seller in counter-top water flossers which packs in a large number of features with top quality cleaning. Click here for more info and Amazon customer reviews.
Features:
10 pressure control settings
7 different tips for different purposes: Between everyday cleaning, to tips suited for braces, tongue cleaning, plaque targeting, and more.
On/Off button
90-second reservoir capacity
Pros:
As a great brand counter-top model with top quality flossing, this packs in a large number of features.
The variety of pressure control settings allow you to choose the optimum, instead of settling for simply 'high' or 'low' settings.
Multiple tip options allow you to a variety of cleaning types suited to you.
Extremely popular model with very positive results.
Good warranty – 3 years
Attractive, modern design
Cons:
As a counter-top model, it is inherently not as easy to travel around with as cordless models.
The on/off switch takes some getting used to, and you need to learn to hit it from the right angle.
Only 2 tips can be stored in the lid of the unit at any one time. It would be nicer if this could house all of them instead.
If you would like to learn more, I have written a more detailed review of the Waterpik Aquarius.
Review: Panasonic Portable Dental Water Flosser
An extremely popular cordless model is the Panasonic Portable Dental Water Flosser (Model: EW-DJ10-A). This is a great option that does a very effective clean on battery power, with equally effective performance to counter-top models. Click here for more info and customer reviews.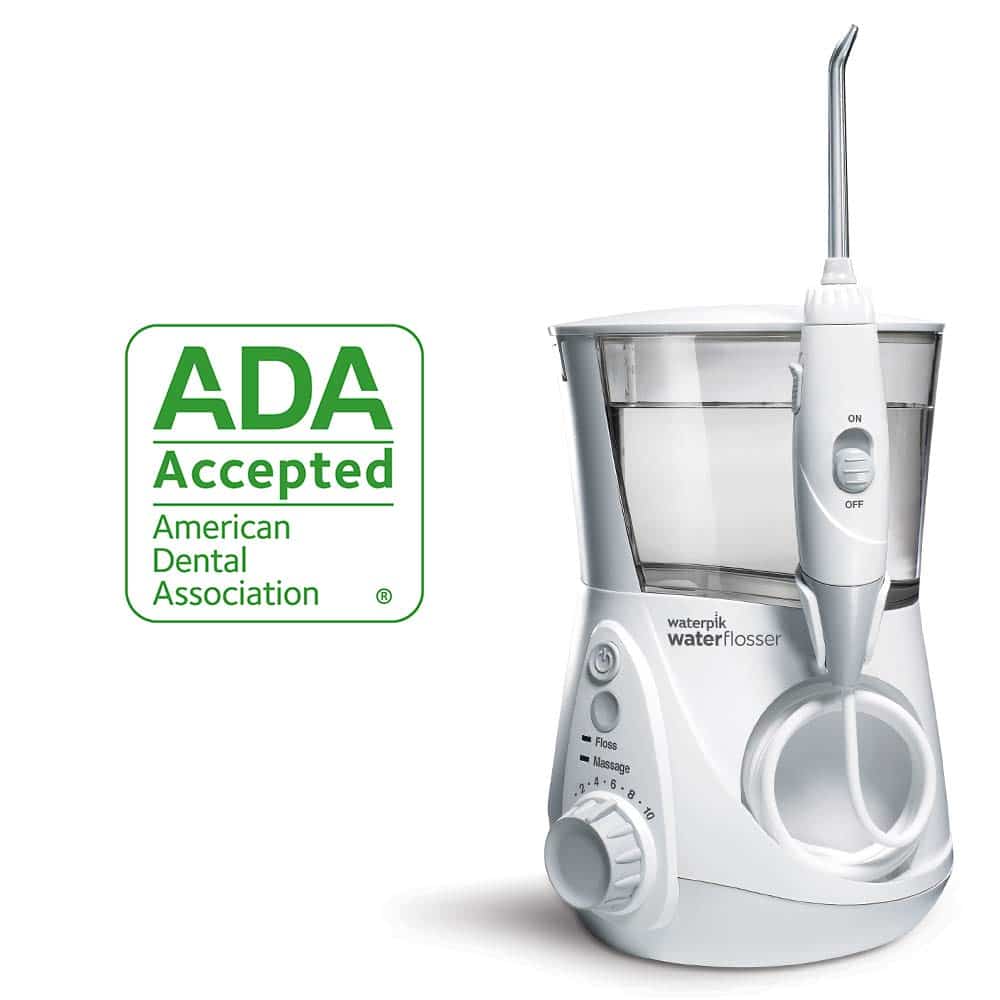 Features:
Portable and cordless, battery-powered
Dual speed – High and low speeds. High speed is the standard, and low speed is used for getting your gums used to the flosser, for people with gum problems, and for kids (There are also separate kids water flossers that you can purchase).
Collapsible Design – Very useful for traveling
Pros:
Compact and cordless – great for traveling
Easy to fill
Easy to clean, with all parts being waterproof
Long-lasting battery life (average of a month)
Multidirectional
Cons:
Uses AA batteries. It would be nicer if these used Lithium-ion batteries. However, this eliminates the need for a charging unit.
As a cordless 5.5 oz reservoir, it is inherently smaller compared to counter-top units.
The unit can be a bit bulky for kids. Smaller water flossers are recommended for them.
Review: Waterpik Water Flosser For Kids, WP-260
This is the top water flosser exclusively designed for kids. It features a smaller handle, easier to operate a function, more fun design, and child-proof electrical design. Getting kids to floss can be a nightmare, the Waterpik water flosser for kids makes this a whole lot easier, and is a great opportunity for young kids with braces. The model is designed for kids 6 years and up.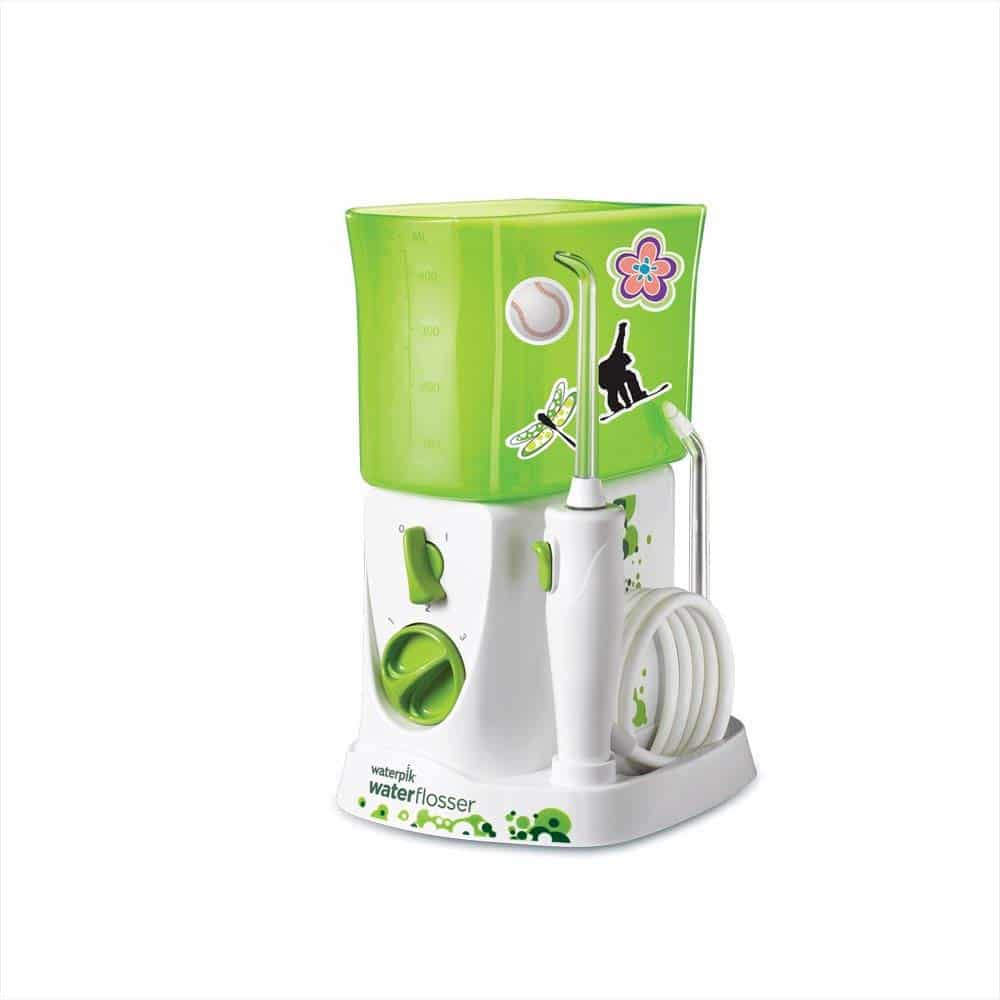 Also, one water flosser can be used for multiple children, as the tips are removable and more can be bought separately. Some adults have also chosen to use this model for themselves as it takes up less space on the counter-top, however, it is less powerful and holds fewer features specific to adults. Click here for more info and Amazon customer reviews.
Features:
Smaller handle
3 pressure settings
60 seconds of water capacity
Warranty for 2 years
2 tips included
Fun design!
Pros:
Great way to get your children to floss, especially those with braces.
Trusted brand
Fun for kids to use!
Very effectively cleaning
Easy to use
Safe electrical design
Dual voltage
Kids can share (using different tips)
Good warranty
Cons:
No pause button compared to the adult versions
No reservoir lid
The high-pressure setting can be too high for some kids, make sure to start with a low setting
Review: Cordless Oral Irrigator by ToiletTree Products
This is a very popular water oral irrigator by ToiletTree products. It is a cordless model which allows for great portability and traveling.  Click here for more info and Amazon customer reviews.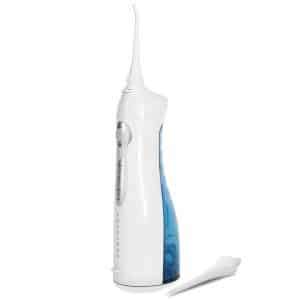 Features
Rechargeable – Uses lithium-ion batteries
Universal voltage
3 Modes (Normal, Soft, Pulse)
Pros
No need to buy batteries like some other cordless models, the charge lasts up to a few weeks with daily use
Easy to fill the reservoir
Universal voltage makes this travel-friendly
Cordless model
Easy tip release
Cons
The on/off button takes a bit of getting used to
Some find the water reservoir a little small
Review: QuickBreeze EZ Dental Irrigator
This water flosser attaches directly to your faucet, eliminating the need for a water reservoir. This product comes with an aerator that attaches to your faucet, you can then snap the water flosser valve on and off as you need it! Click here for more info and Amazon customer reviews.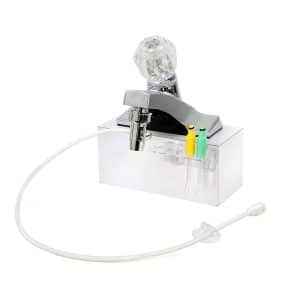 Features:
Fits standard US plumbing (15/16\"- 27×55/64\"-27 inside/outside thread) and the plumbing of man other countries
Lifetime warranty
Simple installation and operation
Easy snap-on and snap-off release from faucet aerator
Pros:
Easy to install and fit
Easy to use
Universal fitting for US plumbing
Never need to refill water
Water pressure highly adjustable by your water faucet
Cons:
Does not have a pulsating mode like Waterpiks or other stand-alone units
Lacking in features of counter-top models
Not as suitable for travel as cordless water flossers, as it requires installing the aerator to the sink.
How to use a Water Flosser
Not sure how to use a Water Flosser? See the below steps. This is using a Waterpik counter-top model as an example:
Make sure that your Water Flosser is clean. Rinse it through and wipe it off with a cloth.
Fill the reservoir with clean water. If your teeth are very sensitive, then you may fill it with warm water, but make sure that the water is clean.
Select your tip if multiple ones are available (If you are not sure, you can start with the Classic Jet Tip for Waterpik models).
Start on the lowest pressure, and press the pause button
Turn on the power button
Start water flossing and turn up the pressure that is most comfortable. If it is painful then stop and immediately decrease the water pressure.
Close your lips while flossing and lean over the sink to let water flow out of your mouth. This may take a little training as it is different from the action that you will do while brushing.
Start with the back teeth at a 90% angle to the gumline and work forwards.
Make sure to keep up the habit daily!
See below instructional video by Water Flosser manufacturer Waterpik:
What Type of Water Flosser Should I Choose?
If you want a permanent space for your flosser then choose a counter-top model because this has the most features and has the largest reservoirs.
For those with little space or want a portable model then get a Cordless water flosser.
If the model is for the kids then buy a Kids water flosser.
If you don't want to refill your reservoir then choose a faucet attachment model (however these are less popular).
Should I Brush or Floss First?
This is a question that came up when I started living with my Fiancé. Before going to bed, he started to question why I was flossing before brushing. It is something that I had never thought about before as it had simply been what my parents had thought me. It turns out that there are two different schools of thought on this subject.
Flossing Before Brushing: This first school of thought is recommended by the American Dental Association. It is based on the idea that you should floss in order to dislodge the plaque and build-up between your teeth first. Brushing will then remove the plaque and clear away any remainder and also give fluoride in your toothpaste more of a chance to get to those hard to reach areas in between your teeth.
Brushing Before Flossing: The argument behind between brushing first is that this will dislodge and tackle some of the plaque between your teeth (especially if using interdental toothbrushes). Then when flossing it will completely get rid of the remaining plaque.
I'm happy to still be flossing before brushing based on this research. However, it is still completely up to you. It is possible that one of these methods is better than the other. The benefits and improvement to your oral health may be quite similar. The really important thing is that you make sure to floss every day.
Brushing alone simply does not do a good enough job in cleaning in between your teeth. It just so happens that this is the area that most gum problems and diseases occur. So if you are still unsure if you should be flossing before or after, then just pick one! Doing so consistently will do wonders for your dental health, reduce bleeding, and save yourself from some serious dental bills further down the line
Conclusion
So that's a list of my top recommended Water Flossers and a Buyer's guide to help you figure out what to look out for and pick the perfect one for you.
Remember that your teeth and gum health are extremely important. If you can, floss with both a water flosser and string floss together to get an absolutely amazing clean. But make sure to start with at least something today! The investment in a water flosser is absolutely minimal compared to the pain, stress, and financial worries that will come with poor gum health and problems.
Most of all, pick the one that's right for you, keep up the habit, and go at least 30 days with flossing daily to make sure you really stick to your routine. You and your dentist will be very glad you did!
I've chosen this model as it is extremely effective and has features, tips, and settings that should suit just about everyone. Waterpik is at the top of this industry and you know you are getting quality and tested products choosing them.
If you're not really sure which one to get, you won't be disappointed with the Waterpik Aquarius.