How to Use an Electric Toothbrush for Best Results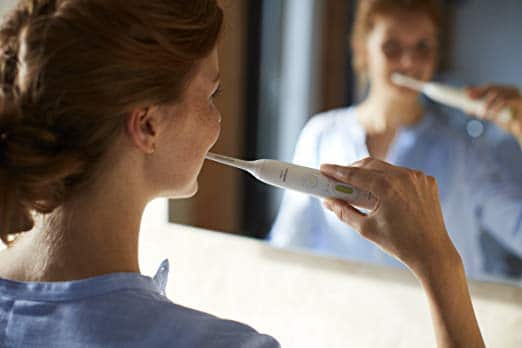 How to Use an Electric Toothbrush for Best Results
Who says brushing your teeth needs to be boring and tiresome? You should consider trying the best electric toothbrush. It was invented in 1954 by Doctor Philippe-Guy Woog. It has been proved to remove plaques from our teeth better than the most widely used manual toothbrush.
In addition to removing plaques, it is 17% more capable of reducing gum inflammation (gingivitis) when used consistently for a period of 3 months.
Obviously, every invention comes with a fair share of its advantages and disadvantages. Some people prefer using the old manual toothbrush while some prefer the new best electric toothbrush. Let me take you through the pros and cons of this great invention as compared to the commonly used manual toothbrush.
Pros
They are more efficient. This is because when the toothbrush moves over your teeth, it takes about 30,000 strokes per minute which ensures that it removes all the plaques from teeth and those embedded on the gum line. This cannot be compared to the manual toothbrush which depends on your speed and strength of brushing.
They help reduce mouth infections. Like I had stated earlier, it has been proved that they have 17% higher chances of reducing gingivitis as compared to the manual toothbrush. This is because it helps in reducing the chances of bacteria breeding on your gums which cause mouth odor and infections such as gingivitis. All that is needed of you is to consistently use the toothbrush over a certain period of time.
They have pressure sensors and timers. Definitely, this cannot be found in their manual counterparts. Pressure sensors and timers ensure that you do not brush with too much pressure and do not exceed the recommended 2 minutes of brushing your teeth.
Cons
Lack of knowledge of how to use the toothbrush can be damaging to your teeth. These include the following:
Enamel erosion- When you apply too much pressure when brushing your teeth, this can cause your teeth to wear out. It is much easier to control the pressure when brushing your teeth manually as compared to the electric way. Enamel erosion increases teeth sensitivity when consuming cold or hot food or water. However, those with pressure sensors come in handy in alleviating this problem.
Receding gums- Gums can be pushed down when used with too much pressure or pushing them back and forth or in a circular motion like how you do it manually. To solve this, make sure you just place them in the teeth surface and let them do the work for you.
To prevent the above cons, you definitely need to know how to use the electric toothbrush effectively and in the correct way. Worry not because I am going teach you how to do it.
5 tips on how to use an electric toothbrush for best results
Use the right angle. Use the brush by holding it near the tooth surface at a 45-degree angle to your gums. This comes in handy in helping to prevent your enamels from getting thinned out and also to avoid injuring your gum which consequently prevents them from being inflamed.
Use the right size of head. Make sure you get the right size of toothbrush for your mouth size. This ensures you do not have a hard time brushing your teeth. Secondly, it also makes sure the toothbrush fits in your mouth perfectly especially for people with small mouths.
Use of the right texture of bristles. This comes in handy for people with sensitive teeth. Make sure you use one with soft bristles to avoid eroding your enamel, inflaming your gums or bleeding after brushing.
Let it do the work for you. Normally, when using the manual toothbrush, one is required to brush their teeth by moving the toothbrush back and forth or in circular motions. However, this has been improved because the electric toothbrush makes 30,000 strokes per minute. All you have to do is place it on your tooth surface and let it do the work for you.
Use of alcohol-free mouth rinse. You obviously have to rinse your mouth after brushing your teeth to get rid of the toothpaste. Make sure you use alcohol-free rinses to avoid your mouth from drying up and causing a bad odor that is more often than not as a result of not brushing teeth.
If you follow the above tips, you will have the most effective and easy time brushing your teeth. I hope you will now ditch your manual toothbrush from your bathroom and say hello to the best electric toothbrush for life!