Porcelain Veneers: Analyzing Your Options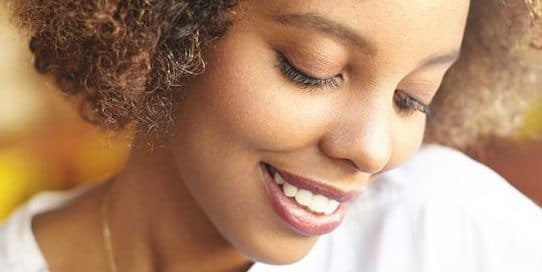 Porcelain Veneers: Analyzing Your Options
When it comes to brightening and fixing your smile with porcelain veneers, most people want to know the options that are available. This requires thorough research in order to make an informed decision about the best dental care.
Veneers are a popular cosmetic dental solution to transform your smile. Some options are available if you are interested in Houston porcelain veneers. The two common types of veneers are traditional porcelain veneers and prep-less veneers.
Traditional porcelain veneers
These are wafer-like thin layers which can be used for altering the color, shape or size of teeth. Porcelain veneers are fabricated in the dentist's laboratory to get the desired coloring. Veneers are bonded to teeth either physically or chemically using a paste or cement. Generally, porcelain veneer treatments are an expensive procedure as compared to bonding.
In order to create life-like, natural-looking porcelain veneers it is necessary to remove approximately .5 mm of tooth structure from the front and biting the edge of your teeth. The inside of the tooth is typically left totally alone. Then we create a porcelain veneer that replaces the removed tooth structure creating the smile you have always wanted.
Traditional porcelain veneers are typically the best solution for patients who have serious dental problems, such as chipped/broken teeth, gaps, or irregularly shaped teeth. This type of veneer usually requires minor adaptations to the tooth's structure, and because of this, traditional veneers are an irreversible solution. Traditional veneers normally have a life span of 10-15 years, depending on the patient's dental hygiene habits.

Lumineers
Lumineers are one of the common solutions for people who are looking for veneers but do not want to undergo an over-invasive procedure. Lumineers are made of a material known as Cerinate, which is a type of porcelain used to repair chipped, cracked, stained, or broken teeth. Lumineers are typically a good alternative for people who fear the dentist or prefer not to undergo excessive tooth grinding. Also, Lumineers are a quick alternative to traditional porcelain veneers. Another advantage of Lumineers is that they are a more cost effective solution than traditional porcelain veneers. Several other factors come into play, but in many cases, Lumineers cost 25% less than traditional porcelain veneers.
Durathin Veneers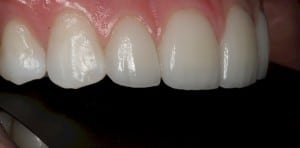 Another option that you may want to consider is Durathin Veneers. These provide a similar outcome to traditional porcelain veneers but require no removal of enamel. Durathins are popular because they are designed to basically attach to the front of your teeth. Many people explore this option because it does not damage your current smile in any way. It's a popular choice for individuals looking for no-prep veneers, but as with all other options, it has its advantages and disadvantages.
Prepless veneers
Let's assume that you don't want any tooth removal at all. Well, in that case, we can possibly utilize Non-Prep Veneers. These cosmetic replacements are placed on your teeth without any tooth removal at all. However, Non-Prep Veneers (sometimes referred to as Lumineers although this is basically a brand name and not a technique)  are not for everyone and there are limitations. Feel free to give our office a call to discuss this potential treatment solution.
There is a lot of misinformation online regarding no-prep veneers. I hear many people talking about no prep veneers as the "end all be all solution" to improve the appearance and function of teeth. While no prep veneers can be a great solution in many cases, you should know that nothing in cosmetic dentistry is a "one size fits all" solution.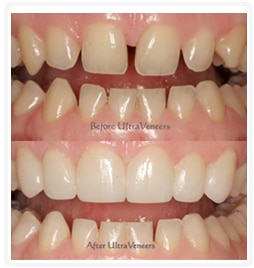 Generally speaking, no prep veneers should be installed when the teeth are bent or shaped toward the tongue, and not flared out. The logic behind this is fairly simple; with prepless veneers, you are adding a small amount of bulk to each tooth. If your teeth are already flared out then this may not be your best option.
Your second option for porcelain veneers are called prepless veneers, used frequently at the office of Dr. Husain veneers offer patients a virtually painless solution. These patients usually have minor dental issues. This type of veneer does not require drilling, and anesthesia is not required, making it a very attractive solution for some patients.
Prepless veneers are made of a thinner piece of porcelain than traditional porcelain veneers and are placed on top of the real tooth. Also, since they do not require adaptations to the actual tooth, prepless veneers is a reversible procedure—you can return back to your original smile if need be.
Maybe cost is an important factor when analyzing your porcelain veneers options in Atlanta. Prepless veneers are typically less expensive than traditional porcelain veneers, but some patients might not be good candidates. The dentist will gladly consult with you to determine if you are a candidate for prepless veneers.
Common problems that Veneers will address
Spaces between the teeth
Broken or chipped teeth
Permanently stained or discolored teeth
Crooked or misshapen teeth
Rotated Teeth
Eroded Enamel or Dentin
Crowded Teeth Where Orthodontics Is Not Indicated Or Desired
Veneers are often referred to as "Instant Orthodontics". A substantial aesthetic effect can be obtained with a veneer and minimal tooth preparation is required.
Applying Veneers
Veneers are applied to the teeth in 2 visits to the dentist: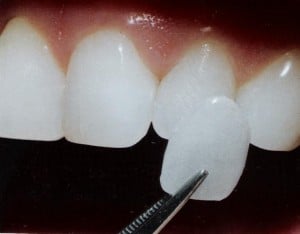 First Visit: Veneer Preparation: The teeth are prepared by extracting 0.3 to 0.5 mm of enamel (the thickness of a fingernail) to allow leeway for the veneer layer. An impression of the teeth is obtained and sent to the specialized dental lab that will construct the veneers.
Second Visit: Veneer Bonding: Bonding includes all the steps that lastingly attach the veneer to the tooth. After cleansing the tooth, the veneer is bonded to the tooth with a particular dental cement. This dental cement is next cured with a blue curing light.
Knowing your options
Knowing your options for porcelain veneers is beneficial to making this important decision to transform your smile.  When it comes to choosing the right type of veneers, there is no universal "best" option for everyone. A person's dental makeup is just as unique as a fingerprint, which is why a consultation with your cosmetic dentist is so important. He or she can examine your teeth, and make the best recommendation moving forward.