Easy, No-Prep Veneers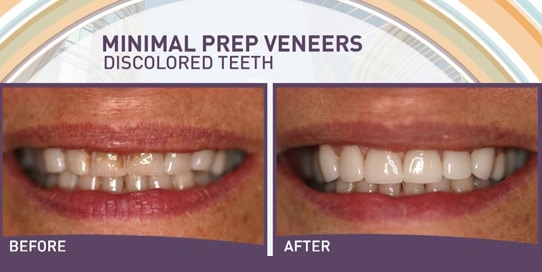 Easy, No-Prep Veneers
Lumineers, DURAthin veneers, and Vivaneers represent a new class of veneers which are commonly categorized as "no-prep." Veneers have exploded in popularity over the past few years thanks to their incredible ability to brighten and repair almost any smile. In particular, porcelain veneers are very popular, since porcelain has an incredibly lifelike appearance and has excellent durability and resistance to staining and wear. However, these new no-prep options represent a promising new solution for patients who wish to avoid the mechanical necessities of traditional veneers. If you are in search of a simple way to rejuvenate your smile, any one of these is a stellar choice.
Typical porcelain veneers are essentially thin casings which are cemented to the outer surfaces of teeth. Because they mask all types of surface stains as well as breaks or chips, they are the perfect way to instantly achieve a brighter smile. The process involves reducing the structure of the tooth. This is necessary in order to accommodate the thickness of the material and cannot be undone. Once the teeth are prepared, impressions are taken which are used by dental technicians to create the set of veneers. While the permanent set is fabricated, temporary material is used to maintain appearance.
No-prep veneers offer all of the same advantages while eliminating much of the preparatory time and work that must be done. Each type has distinct benefits.
Lumineers are made by Cerinate and are an excellent mix of simple placement and aesthetic results. Unlike traditional options, Lumineers do not require the modification of natural tooth structure or the use of temporary veneers, characteristics which designate them as "no-prep." In fact, each of your natural teeth remain intact and unchanged beneath Lumineers. For patients who prefer not to physically alter their teeth, these are an excellent choice.
DURAthin veneers
DURAthin veneers, like Lumineers, require no alteration of tooth material or reduction of enamel. This type, however, is especially suited for patients who are hoping to cover gaps or chips in their teeth. In general, veneers are the perfect option for repairing unsightly problems such as these, and the ease of placement offered by DURAthin makes them a very popular choice among patients and dentists alike.
Vivaneers
Vivaneers are an outstanding product from Glidewell Laboratories which require little or no preparation whatsoever. Vivaneers are extremely thin, making it very easy to apply them in only one office visit. Furthermore, thanks to Glidewell's cutting-edge bonding material, placing Vivaneers rarely requires the use of shots or other anesthetics.
While each of these options are great choices for improving smile aesthetics or protecting damaged teeth, they do not necessarily fix the underlying problem. Some dentists will recommend that broken or chipped teeth be repaired with bonding rather than placing veneers. Still, for patients with relatively healthy teeth, they are perfect for providing a boost of confidence and self-esteem.
No-Prep Veneer Costs
On the downside, all types of veneers tend to be somewhat expensive. In general, patients can expect to pay $1,000 or more per tooth. However, for those who are unhappy with the appearance of the appearance of their teeth, the lifetime value of a brighter smile is hard to calculate. If you feel that you can benefit from one of these no-prep veneer options, talk to your dentist to discover which solution is right for you.