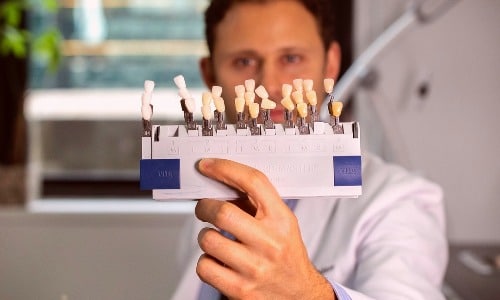 Crowns & Bridges
Crowns & Bridges
The ancient Etruscans, who occupied the region of modern-day Italy known as Tuscany, crafted dental crowns and dental bridges from pure gold. Archeologists determined that these remarkably modern-looking dental restorations were worn exclusively by women as a way to display their family's wealth. Of course, tastes in beauty and smile esthetics have changed, and today's dental crowns emphasize true-to-life esthetics. Dental porcelain and zirconia offer a high degree of translucence and durability, making them a popular choice for dental crown material among dentists. Dr. Dominic Sabatini takes porcelain and zirconia crowns one step further, by offering CEREC in-office crown milling. In as little as one appointment, he can design and fabricate beautiful bridges and dental crowns for his Pittsburgh and North Huntington patients.
Prettau® Implant Dental Bridge
While you may have heard of dental implants, you may not have heard of the Prettau® dental implant bridge. This revolutionary procedure has been popular in Europe for over a decade and has only recently become available in the U.S. Utilizing dental implant posts to secure an all-zirconia prosthetic, the Prettau® dental bridge replaces a full arch of missing, painful, or otherwise compromised teeth. Dental implants provide dramatically improved functionality, while the zirconia prosthetic boasts chip resistance, stain resistance, and exceptionally realistic esthetics. You simply can't find a stronger or more beautiful replacement option for missing teeth!
Exploring Dental Crowns
Both the restorative and the cosmetic dentist can put this handy dental restoration to good use. Dental crowns have a number of applications, such as:
Before proceeding with placing a dental crown, your dentist will sit down with you and talk to you about your options. If you have any questions or concerns about the dental crown procedure or about the materials available, please ask. The Smile Artist team truly believes that well-informed patients are happy, satisfied patients, we want to help you learn everything you can about your dental care.
Benefits of Dental Bridges
Bridgework offers a reliable solution for patients missing one or two teeth in a row. Most bridges consist of three parts: the two abutment crowns which are bonded to the teeth nearest the gap, and the artificial tooth they hold between them to replace the lost tooth. Dr. Sabatini can also place a dental implant secured bridge, a more conservative option that preserves more healthy tooth structure. Filling in gaps left behind by adult tooth loss is of vital importance and provides patients with a number of benefits, including:
Preventing dental drift, a phenomenon where the remaining teeth gradually move toward the gap, often leading to misalignment issues and worn down enamel.
Maintaining proper spacing along the dental arch, allowing patients to enjoy better oral health and less risk of tooth decay and gum disease.
Completing your smile, improving your appearance, and making you look younger, healthier, and more confident.
If your dentist recommends a dental bridge, he will talk to you about your treatment options. CEREC® technology and materials allow him to fabricate and place dental bridges with fewer appointments and greater convenience. Patients with only a few damaged, weak, or otherwise compromised teeth remaining might benefit more from a Prettau dental bridge than a traditional one.
CEREC® Same Day Crowns and Bridges
In addition to being an exciting and fun-to-use piece of equipment, we're excited about CEREC® crowns and bridges because they help us fulfill our mission to provide conservative restorations that preserve the most natural tooth structure possible while ensuring optimal oral health and function. Even better, with CEREC®, your dentist can design and fabricate a completely customized restoration in as little as a single visit. This saves our patients the hassle of numerous return visits to the office.
With lab-made restorations, like dental crowns, inlays, onlays, bridges, and veneers, you can expect a minimum of two separate visits to the dentist's office (one for taking impressions, one for fitting the permanent, and further appointments should the restoration need major adjustments) and anywhere from 2-6 weeks before your permanent restoration arrives from the dental lab. With CEREC® computer-assisted design and manufacturing technology, it's like having a dental lab onsite. Your dentist can take accurate digital impressions, design your restoration in a virtual environment, and use the cutting-edge milling machine to shape it from a block of dental porcelain or zirconia. A finishing touch with tinting, glazing, and heat-finishing adds incredibly realistic translucence and coloring.