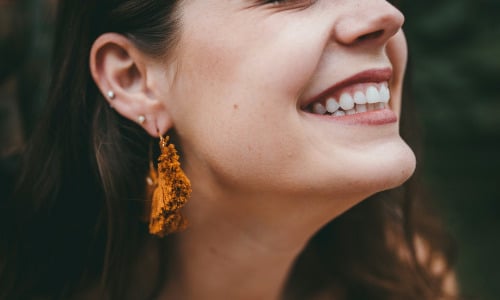 Tooth Bonding
Tooth Bonding
Tooth Bonding is a cosmetic dentistry procedure whereby the cosmetic dentist applies a mouldable bonding material (that has been color matched) to the surface of your tooth in order to re-shape or hide any imperfections in your tooth.
Apart from the reshaping of teeth tooth bonding is sometimes used as a viable alternative to teeth whitening for those patients who are deemed unsuitable for bleaching such as pregnant mothers, people with dental crowns or veneers or those who have damage to their tooth enamel.
Your dentist may use of advanced 3D imaging, innovative computer systems, and the latest dental technology. But sometimes a problem can be solved much more simply. That's why we never stopped offering bonding as part of our dental solutions.
Do You Need Bonding?
When you visit your dental clinic, we will make a very comprehensive assessment of your teeth. We will take note of even the smallest problems, and some of these can be solved with bonding. Bonding can cover up a severe stain that even our teeth whitening can't help. You may have a crack or a chip in a tooth. Two adjacent teeth may have separated to form an obvious gap between them. One tooth may look too small compared to the other tooth beside it, or it may have a shape that's no longer effective for chewing, or no longer attractive to look at.
If you have any or all of these small problems, a simple bonding solution will suffice.
Cost of Tooth Bonding
The cost of tooth bonding will vary quite considerably depending on the amount of reconstructive work required. However, tooth bonding does come with a cheaper price tag than a lost of other cosmetic dentistry with the bonding of one tooth starting at around $125. If you need work on two or three teeth you could be looking at around $600 and if tooth bonding is used as a means of reducing the gaps in your teeth the cost of the specialist materials and the extra time taken will push the cost up to over $350 per tooth.
So What Is Bonding?
Basically, in bonding your dentist will put a natural-looking gummy resin to your tooth and then mold and polish it to a perfect shape. So if you have a severe stain, this resin will cover it up so your teeth will look brighter.
This gummy resin can be also shaped to fit in the gap between adjacent teeth. It can fill in your cavities so they will look a lot better. It will attach to your teeth to fix any chip or cracks. It can even cover up the root of a tooth when your gums have receded so that germs can't get inside and cause an infection.
Tooth bonding is also used for repairing chips to the surface of the tooth, tooth fractures and can help in correcting gaps in teeth.
If you are seeking a complete makeover with a majority of your teeth being affected it is unlikely that your cosmetic dentist will consider using tooth bonding but will more likely go down the pre-moulded route and use such things as dental crowns and porcelain veneers.
Tooth bonding is an art and definitely a cosmetic procedure that needs to be performed by an experienced cosmetic dentist and not by your local family dentist. All tooth bonding is sculpted freehand and the color of the bonding materials must be matched and blended in with your tooth so if you want a natural finish you have to use the right cosmetic dentist to do the job.
Benefits of Bonding
Aside from fixing all these problems effectively, you'll also receive several benefits from it. One benefit is that it is a very simple treatment, and that means there's very little chance that something will go wrong. We don't have to prepare your teeth extensively so that the gummy resin can be bonded to your teeth.
And it's also affordable. Your dental insurance might even cover it entirely. It's much more affordable than other cosmetic dental solutions. If you've noticed small aesthetic problems with your teeth, bonding is simple, quick, and affordable.
The level of skill required to perfectly reconstruct a tooth with bonding materials is not something that dentists learn unless they choose to extend their training into the field of cosmetic dentistry. For this reason and this reason alone, if you want to avoid the possibility of being left with an unsightly botched tooth spend a little time in checking out the credentials of the cosmetic dentist you are thinking of using.