All-On-Four Dental Implants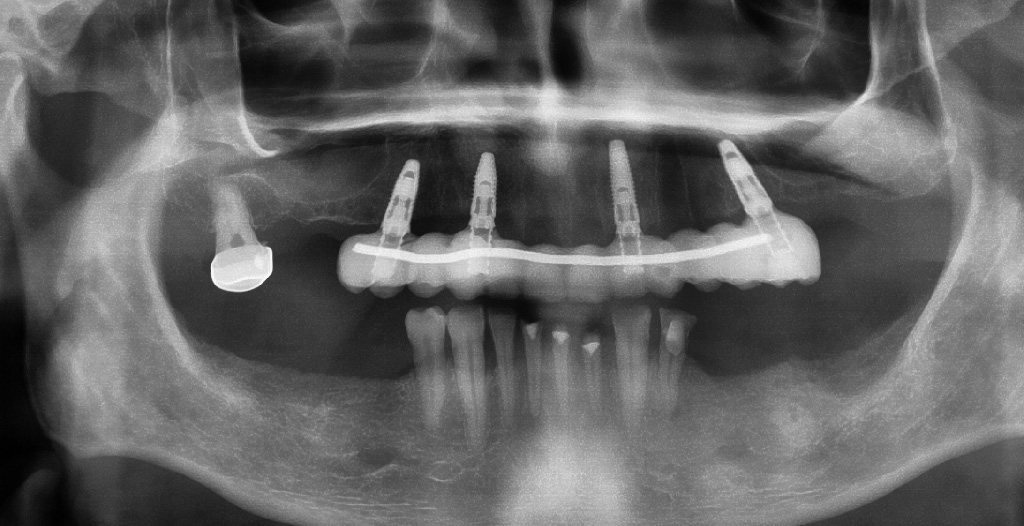 All-On-Four Dental Implants
All-on-Four dental implants are a full-arch dental implant solution designed for patients with missing teeth or those needing a full set of new teeth. Unlike traditional dental implant techniques that may require individual implants for each missing tooth, All-on-Four implants utilize just four implants to support a complete set of new teeth.
The All-on-Four technique involves placing two posterior implants at an angle to maximize the use of available bone and two anterior implants placed vertically. This provides a stable foundation for a full-arch prosthesis, such as a denture, bridge, or fixed prosthesis.
The benefits of All-on-Four implants include faster treatment time, reduced costs, and reduced surgical procedures compared to traditional implant methods. Additionally, implant placement can often avoid the need for bone grafting in patients with significant bone loss in the jaw.
A skilled and experienced oral surgeon or periodontist typically places All-on-Four dental implants. The process involves an initial consultation, dental imaging, and surgical placement of the implants. After a healing period, the dental prosthesis is attached to the implants to provide a stable and functional set of new teeth for the patient.
Dental Implants
To say that Dental Implants are becoming a fast trend in the world of Dentistry is an understatement. The Science of replacing not just the coronal portion of a tooth has long been the thrust of every human being in the history of mankind. Being the second oldest discipline in dentistry, second only to surgery-extraction, which dates back to the time of the ancient Chinese, man has continually searched for a replacement for his or her teeth. The discovery of titanium as a viable material with excellent biocompatibility with human tissue has undoubtedly led to a series of studies and research that brought about a revolution in knowing more about dental implants.
All-On-Four Dental Implants Technique
A dentist developed the All-On-Four Dental Implants Technique in Portugal in cooperation with Nobel Biocare. It attempts to allow dentists to place an entire arch of teeth (no molars are included) in patients with poor bone levels by using highly angled implants in only the anterior portion of the jaw, with more bone density. The idea is to provide a shortcut around bone grafting.
Many periodontists believe patients should be cautious and well-informed about the risks associated with this technique. His primary concern is the gigantic risk that if one of the dental implants fails, the entire restoration fails and has to be redone. A common saying at dental implantology conferences is "all on four but none on three."
Today, we have established many surgical and prosthodontic protocols that have standardized how we manipulate dental implants and maximized their use on our patients. Long-term studies and observations have already been proven and generally accepted. The numerous books on Dental Implants, Guided Bone Regeneration, Bone Grafts, Journals, and the development of machines such as Dental CT Scans testify to how far we have already gone.
The diagram above (taken from a Nobel Biocare training manual) clearly shows no molars in an All-On-Four restoration. Remember, back teeth (molars) do 80% of your chewing.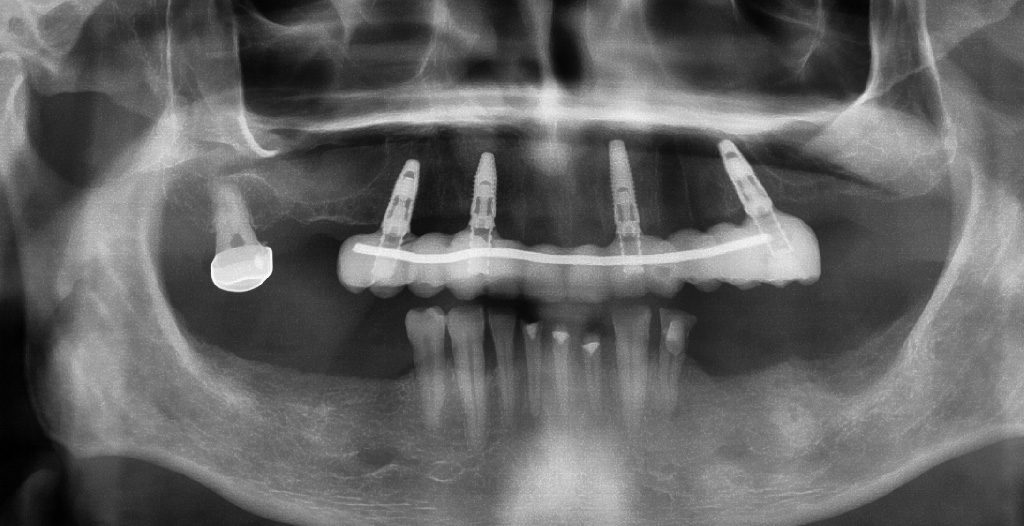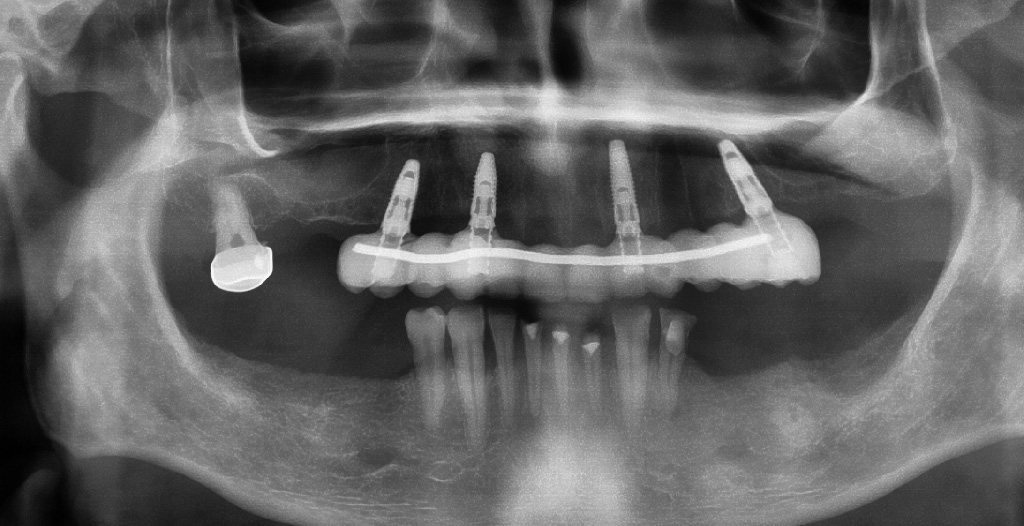 A second concern when this technique is jaw atrophy in the posterior region of the jaw. (For more information on this jaw atrophy, please see our page on facial collapse). This atrophy creates a risk of jaw fracture. Since the All-On-Four technique only places implants in the anterior of the jaw, the bone in the posterior is not stimulated and thus continues to be resorbed by the body. The presence of implants, on the other hand, has a piezoelectric effect that prevents bone resorption.
Another risk is the possible loosening of the screws of the prosthesis, leading to infection and failure.
Please see more information on this website on dental implant failure.
The all-on-four dental implants technique is promoted to simplify providing dental implants for patients with no remaining natural teeth. Often these patients are missing a lot of bone. The theory is that by using only four dental implants, with two at extreme angles, the patient can eliminate the need for expensive and time-consuming bone grafting surgery.
One of the weaknesses is in the structural strength of the restorative system. Doctors have serious questions about whether this treatment is appropriate for patients with significant facial muscles that can generate heavy biting forces. Below is an enlarged photograph of a screw used to fasten a conventional implant to an implant overdenture next to a screw used to fasten an all-on-four dental implant to its overdenture. The dime is used to help you judge the actual size.
You can see that the length of the threads of the all-on-four screw is half that of the conventional dental implant screw and that the threads aren't as deep. Over time, under the heavy stresses of chewing, these factors increase the risk of the screws coming loose. Dr. Carl E. Misch, the author of the authoritative textbook Dental Implant Prosthetics, lists twelve possible causes of screw loosening. Eleven of those twelve possible causes are related directly to the ability of the components of the dental implant system to resist the forces of the function of the replacement teeth (Misch, Dental Implant Prosthetics, p. 454). And a loose screw will lead to the trapping of foreign matter, subsequent infection, and restoration failure.
Also, notice that the diameter of the shank of the all-on-four screw is about 70% of that of the conventional dental implant screw. This means that the cross-sectional area and, thus, the shear strength of the screw is slightly less than half that of the conventional screw. Over years of function under the heavy stresses of biting in the mouth, these screws will be subject to metal fatigue and weakening.
The package has strong sales appeal. The patient can have the entire treatment done in one appointment. And it's profitable for the dentist because it commands a handsome fee without taking much of the dentist's time.
A prominent implant dentist has extensively studied the all-on-four dental implant technique. He sees some weaknesses that would be helpful for prospective patients to know about. In some cases, the all-on-four technique may be appropriate for the patient. However, there needs to be considerable judgment and discretion in its use. The patient must also know the potential risks before agreeing to the treatment.
Implant Dentistry has certainly evolved throughout the years. This giant leap caused by research and findings has contributed to advancing this discipline in Dental Medicine.
Resources
Here are some resources that you may find helpful to learn more about All-on-4 dental implants:
The American Academy of Implant Dentistry: This professional organization for implant dentists provides information on All-on-4 implants and can help you find a qualified provider. Their website is https://www.aaid-implant.org/.
The International Congress of Oral Implantologists: This organization offers resources for patients seeking dental implant treatment, including information on All-on-4. Their website is https://www.icoi.org/.
Dental implant manufacturer websites: Many implant manufacturers, such as Nobel Biocare, Straumann, and BioHorizons, offer information on All-on-4 on their websites. These resources can help you learn about the technology and find a provider who uses their products.
Patient review websites: Websites such as RealSelf and Healthgrades allow patients to leave reviews of their experiences with dental implant treatment, including All-on-4. Reading these reviews can provide insights into the process and help you find a qualified provider.
Academic journal articles: Many studies have been published on All-on-4 dental implant treatment. Searching academic databases, such as PubMed or Google Scholar, can help you find scientific articles that provide information on the procedure, success rates, and potential complications.